Problem after Win 10 oct update Voicemeeter and cables VBaudio A+B do not work.
Hi, I been using VM Banana with Radio DJ since early 2017 or about 2 1/2 years.
Last year during the Oct/Nov 1903 cumulative Update I had issues then again in Dec2018/Jan 2019 the re-rollout of 1903 ruined my setup rewriting drivers, driver names, rerouting A & B. I finally in April 2019 had to reinstall win10 Pro, at least 8 times and finally Windows updated once again fixing whatever problem that was causing random failure that had become so bad my setup was unstable to use.
A few days ago 11/18/2019 (2019-KB4524100 Cumulative Update for .NET Framework 3.5 and 4.8 for Windows 10 Version 1903)
hit my system. Some of the damage:
• change desktop image and setting blur in policy
• combined with Chrome update wiped out my bookmarks and Chrome install, forcing me to reinstall chrome.
• wiped out Voicemeeter inputs/outputs, and changed input/output settings in Radio DJ.
• wiped out previous restore points, leaving only the date of the update.
Actions taken so far:
• after uninstall driver A+B, VBcable, Voicemeeter (double checking removed from device Manager) only VAIO worked
• attempted to restore to the remaining restore point date of update. No Joy here again uninstall-reinstall VM+VB Cables and A+B cables.
• discovered there was oct 2019 Voicemeeter Banana so installed. Still no joy
• un-install re-install all VB cables and voicemeeter multiple times.
Problem: only cable working is the VM VAIO, I can use it in RDJ it works or just as input for all apps to speakers.
cables VB-audio+AnB do not work.
I use 2 cables in radio DJ, one is playback to encoder (RDJ playback > VMbanana > encoder > internet)
RDJ playback > VM Banana is Cable A, RDJ Monitoring Cue is Cable VB-audio, VMbanana > encoder Cable B.
(image shows playback Cable A showing Green Meter in RadioDJ, same for monitoring cue VB-audio cable working in RDJ,
VM Banana does not receive the music or not showing in VMB.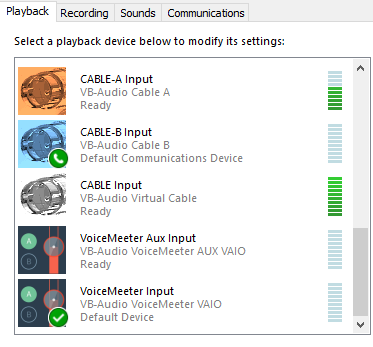 Hopefully there is simple fix, instead of re-install windows 10?