So i have issues i would like to hear if anyone can answer.
I know you need to set the Hertz to the same for all audio units.
I have done this. Have set it to 16bit, 44.100 hertz.
At first I thought it was the Virtual Audio cable, but then i realize playing it through the speakers that it is working fine (although sound quality sounds a bit low).
The problem is when i select the virtual audio cable VB-Audio Virtual Cable as an input device in Voicemeeter Banana.
No matter what settings i set in Voicemeeter banana it sounds horrible distorted.
I even tried setting the settings for "buffering" for the A1-A3 devices and it helps a bit to increase it...but it gets horrible bad if i lower it.
Standard settings unchanged in Voicemeeter Banana gives bad sound. What should i select here to have crisp clear sound from the Cable Output?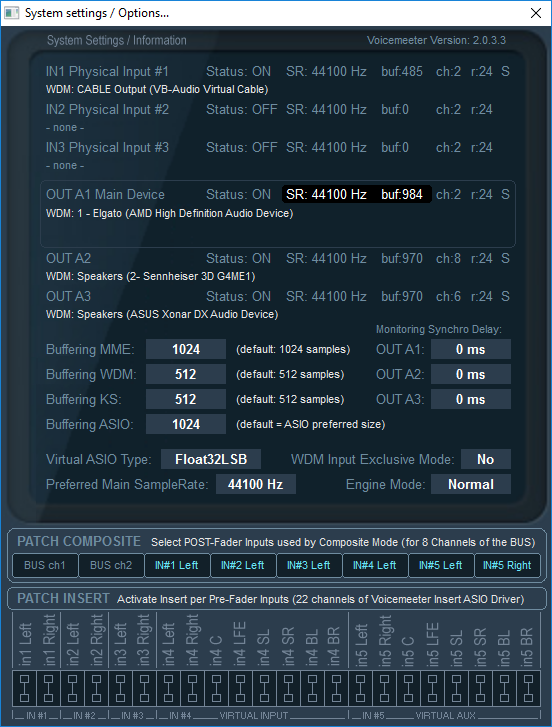 My plan is to have the VB-cable carry possibly my game sound, to both my headset and my HDMI-output for streaming.
I do that with VBAN but the quality is really horrible because of this sound problem i have.
I play say music with VLC to VB-cable as output device.
If i set it to listen to my Asus Xonar speakers it sounds OK.
If i open Voicemeeter Banana, and select VB-cable input and route it to, in this case A3, then it sounds horrible, even if the input sound from the VB-cable I know is ok.
If i set the WDM to 2048 samples in VoiceMeeter Banana settings, it becomes a tiny bit better,but is still terrible to listen to.
Hope someone can help me solve this puzzle.
Playing back through VAIO and AUX is not a problem and does not distort sound.
Best reg.
Mr. Boof
http://www.twitch.tv/druidpov